Minister Nabakooba Asks Mityana Locals To Make good use of PDM Funds.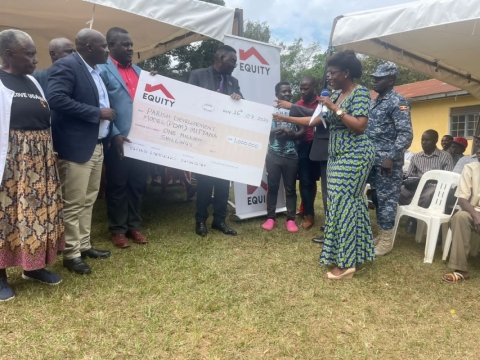 Minister Nabakooba Asks Mityana Locals To Make good use of PDM Funds.
26/07/2023
The Minister for Lands, Housing and urban development Hon Judith Nabakooba Nalule has urged Parish Development Model (PDM) beneficiaries in Mityana Municipality Mityana District to use well the money as expected so that they can benefit from it.
Minister Nabakooba said this while commisioning the Shs 1.6 billion PDM cash at the Mityana Municipality headquartes where 305 beneficiaries recieved during the first batch and she said that those who have got the money should use it for what they requested for.
Mityana Municipality has over 225 enterprises groups formed out of 15 wards from the three Divisions of Busimbi,Ttamu and Centtral Division and each ward is exepected to revieve Shs 107 Million.
An individual will recieve one Million on their accounts and they are given a three years before returining the money.
Minister Nabakooba thanked President Museveni for initiating the programme entitled for the low income earners. She explained that the programme is meant for the poor ugandans who live for survival and they want to change the narrative such that they can as well have something to save.
PDM is going to be the last mprogram to lifting the standardes of Ugandans who are still in poverty to improve their household income.Nabakooba said.
Minister revealed that 35% of the people in Mityana district are below poverty line and with PDM atleast the number will go down.
Municipality PDM focal person Grace Nakuya said that the program was introduced back in the 2021/2022 financial year but alot needed to be given to prospective beneficiaries. Nakuya added that they had to mobilise all the house holds in the municipality so that they can benefit from the parish revolving funds because there was a need for education about the money how it has to be handled.
Mityana district Resident Commisioner Africano Aharikundira cautioned banks that give out loans in the names of PDM to stop it as soon as posible. Aharikundira said that their are banks who use government names to put people into troble.
Mityana Municipality Mayor Faustine Mukambwe thanked the government for bringing this iniciative and asked the government not to take long without giving out the money to the beneficiaries as it has been hard in other areas.